Amazon.com is now listing the complete-series Smallville DVD set at $224, over $100 less than the suggested retail price.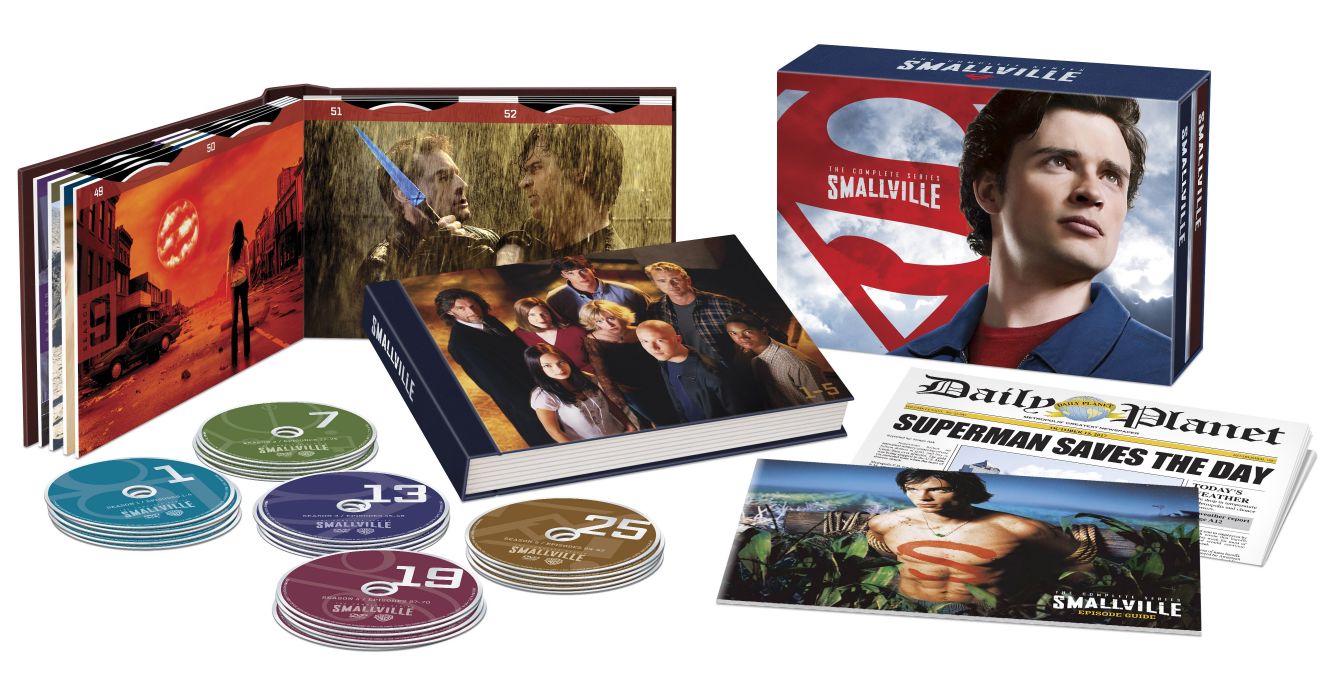 Smallville: The Complete Series DVD Collection
(Read on Below for the official press release)
The Ultimate Collector's Set for the Ultimate Fan

SMALLVILLE
THE COMPLETE SERIES
Featuring All 218 Episodes, Including Never-Before-Seen
Special Features, in Highly Collectable New Packaging
BURBANK, CA (April 27, 2011) – After 10 incredible seasons,Smallville: The Complete Serieswill arrive on DVD this fall. This ultimate collector's set for the ultimate fan features over 192 hours of content – including all 218 episodes, over five hours of newly added special features such as an unaired, never-before-seenSuperboypilot from 1961, a 90-minute series retrospective with all new interviews, the 2010 final Comic-Con panel and more!
In addition, exclusive printed materials include aDaily Planetnewspaper, written by DC Comics, that highlights the important storylines developed during the 10-year run of the show and an episode guide with never-before-seen production art (storyboards/sketches) and behind-the-scenes photos.Smallville: The Complete Seriesis presented in highly collectable new packaging consisting of two lay-flat picture books that hold 62 discs.
Soaring toward the end of its 10th and final season, this modern retelling of a hero's legendary origins blends realism, action, heart and humor as Clark Kent completes his epic journey by claiming his birthright as the world's ultimate hero – Superman.
Starring Tom Welling as "Clark Kent," Allison Mack as "Chloe Sullivan," Kristin Kreuk as "Lana Lang," Michael Rosenbaum as "Lex Luthor," John Glover as "Lionel Luthor," Erica Durance as "Lois Lane," Annette O'Toole as "Martha Kent," John Schneider as "Jonathan Kent," Justin Hartley as "Oliver Queen," Sam Jones III as "Pete Ross," Cassidy Freeman as "Tess Mercer," Aaron Ashmore as "Jimmy Olsen," Eric Johnson as "Whitney Fordman," Laura Vandervoort as "Kara," Callum Blue as "Zod," Jensen Ackles as "Jason Teague" and Sam Witwer as "Davis Bloome," Smallville has also featured many notable guest stars including Terence Stamp, James Marsters, Michael McKean, Ian Somerhalder, Jane Seymour, Brian Austin Green, Pam Grier, Helen Slater, Michael Ironside, Julian Sands, Tori Spelling, Rutger Hauer and Christopher Reeve.
Superman was created by Jerry Siegel and Joe Shuster. Based on DC Comics characters,Smallvillewas developed for television by Alfred Gough & Miles Millar. Its executive producers have included Gough & Millar, Brian Peterson, Kelly Souders, James Marshall, Michael Tollin, Brian Robbins, Joe Davola, Todd Slavkin, Darren Swimmer, Greg Beeman, Ken Horton and Tom Welling. The series is from Tollin/Robbins Productions, Millar/Gough Ink and Warner Bros. Television.
The two-hourSmallvilleseries finale will air on Friday, May 13, 2011, at 8pm on The CW Television Network.
SPECIAL FEATURES
Never-before-seenSuperboypilot from 1961
90-minute series retrospective with all new interviews

2010 final Comic-Con panel

A Daily Planetnewspaper written by DC Comics that highlights the important storylines developed during the 10-year run of the show

Episode guide with never-before-released on DVD production art and behind the scenes photos

And more!
SMALLVILLE: THE COMPLETE SERIES
Running time: 192 Hours
SRP: $339.88