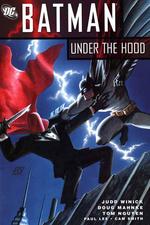 'Batman: Under the Red Hood' looks to be the title of the next DC Universe animated feature film, following February's 'Justice League: Crisis on Two Earths'.
A feature at Blu-Ray.com unveiling the contents of the 'Crisis' Blu-Ray release, lists of preview of the next DCU release and thereby drops the name of the film. Interestingly, press materials on the Warner Home Video site keep the name under wraps listing only a "A First Look at next DC Universe Movie".
There's no info about the plot of the movie. Fans know well that the villain who becomes the Joker, first enjoyed a life of crime as The Red Hood. The identity has been revived several times over the years and is currently appearing in Grant Morrison's 'Batman and Robin' comics.
'Justice League: Crisis on Two Earths' special features will include:
DC Showcase: The Spectre
A First Look at 'Batman Under the Red Hood'
Green Lantern First Look
Superman/Batman Public Enemies First Look
Wonder Woman: The Amazon Princess "
The New World" – Extended Cut
Bruce Timm's Top Picks
A Better World, Parts 1 and 2 (previously on Justice League Unlimited S2 DVD release)
Twilight, Parts 1 and 2 (previously on Justice League Unlimited S2 DVD release)
DC TV pilot episodes (live -action)
Wonder Woman (previously on Wonder Woman S1 DVD release)
Aquaman (never before released)
Trailers
Digital Copy Online (DCON) – no fee, no second disc required