A permanent exhibit paying tribute to Superman is opening in the airport in Cleveland — the city where the "man of steel" was created.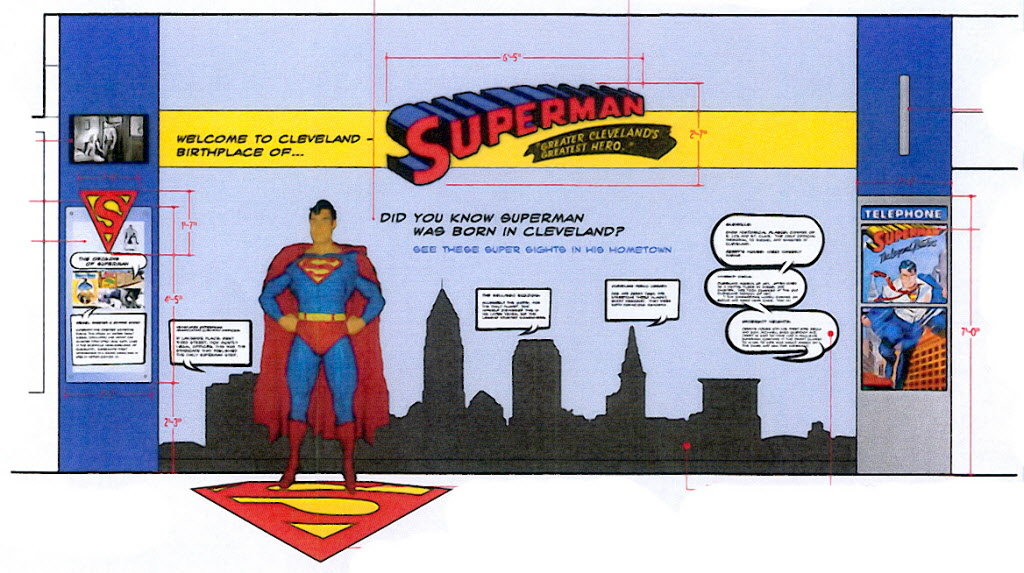 Relatives of Superman creators Jerry Siegel and Joe Shuster will be at Cleveland Hopkins International Airport Thursday night for the opening of the exhibit.
The Superman exhibit was put together by the Siegel and Shuster Society, a group formed to honor the boys who created a worldwide cultural icon in the midst of the Great Depression. Superman fans contributed about $50,000 for the exhibit.
Next summer marks 75 years since Superman first appeared in "Action Comics" No. 1, heralding a worldwide comic book industry. A near perfect copy of that 10 cent comic sold last year for $2.1 million.
Beachwood's Maltz Museum of Jewish Heritage has had a Superman exhibit on display formore than seven years. A sculpture of Superman burst through a wall above items donated by Siegel & Shuster Society family members, some of whom have been board members and volunteers at Maltz.
Original payment documents showing payments by DC Comics of 10 cents a page to the former Glenville High School students in 1939, a copy of edition number 1 of the very first Superman comic book and a 1942 copy of Superman, holding two WWII dictators in either hand, are just some of the rare items on display at the Maltz.
Executive Director of the Maltz Museum of Jewish Heritage Lynda Bender said the statue being erected at Hopkins is a great compliment to their exhibit and Superman's Cleveland legacy.
"We have a wonderful relationship with members of the family that are still here in Cleveland and they have donated to us a variety of different objects," Bender said.
"We have many pictures of Jerry Siegel and Joe Shuster, who are the young boys from Glenville High School who created Superman. We have their yearbook from Glenville High and we also have a copy of the cover of the first Superman edition," said Bender.
"Unfortunately, we don't have a complete original copy worth well over $2 million, but we would love to have the opportunity to have a copy of one of those here at the Museum as well some day."
For local comic book collector Bob Berkheimer, the statue is a long-time coming. He's been waiting for it since the Superman Convention years ago. He plans on being at the dedication Thursday.
"They (Superman Comics) were created here and they actually worked on the comic book here in Cleveland, so it's a big deal for collectors that know about it, to be idolizing Superman and realizing, hey, he's from my home town," Berkheimer said.
Read more: http://www.newsnet5.com/dpp/news/local_news/cleveland_metro/superman-exhibit-opening-in-cleveland-hopkins-international-airport#ixzz292oEFJrDNew Superman Exhibit
Cleveland Hopkins International Airport and the Siegel & Shuster Society cordially invite you to attend the unveiling of a new Superman Exhibit.
When:
Thursday, October 11, 2012
Time:
5:00 p.m.
Where:
Cleveland Hopkins International Airport
5300 Riverside Drive
Cleveland, Ohio
Baggage Claim
RSVP:
Jacqueline Muhammad
216-265-6542
jmuhammad@clevelandairport.com