Q: Who is Pete Ross?


That's right everybody. If you thought/hoped Pete Ross aka Sam Jones III aka Hillbilly Heroin peddler would return in the final season, think again. Unless Sam can do some crazy scheduling around his possible 20 year prison sentence. He will be a no-show.

Sam Jones III, best known to "Smallville" fans as Pete Ross, today pleaded guilty in Los Angeles federal court to conspiracy to sell more than 10,000 oxycodone pills. His sentence will be handed down in June 2011, where he could find himself spending up to 20 years in jail.
Today, he pleaded guilty as a coconspirator in the drug ring, according to the U.S. Attorney's office.
The feds arrested him after determining he was the "Hollywood connection" involved in the ring's illegal purchasing and distributing the drugs. Jones, 27, was busted at his Canoga Park, Calif., home last year for allegedly trying to sling the painkiller otherwise known as "hillbilly heroin."
Source: E! Online.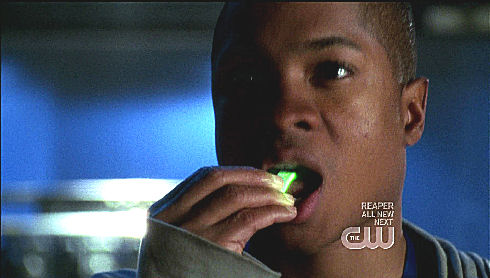 Whats Pete putting in his mouth?! Kryptonite gum? or is it something more sinister than that?
Poor Pete! Where were you Clark when good 'ol Pete Ross needed some value training??