Smallville is now off our screens until next year, but we have the first sneak peek at the show's returning episode…
The first 2011 episode is entitled, 'Collateral', and in it, we'll see some old faces again such as Lionel Luthor, Chloe Sullivan and Martha Kent.
But of course, most important is that this episode is the beginning of the last eleven episodes depicting Clark's back-story before folks knew he was Superman.
And you may be interested to know that Warner Bros are asking fans if they'd like to take part in scenes for next year's February 4th episode!
The show's bosses are asking fans to make a video of themselves thanking "The Blur" for being a hero…
However, if you'd like to play the role of a Metropolis dweller, you'll need to be quick; the deadline for submissions is December 20th, but you can find all the details you need at Warner Bros' website.
Here's the sneak peek at 'Collateral'
Whoah! Clark with no powers!? Haven't seen that before! (Haha! just a little sarcasm for those Smallville Haters out there.)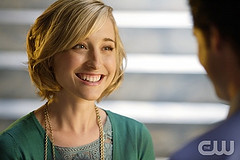 "Hey Clark! Didja miss me?!"
Oh yeah..A few more people will be returning in 2011!