Batman, Superman and Wonder Woman are going back to school in a new series titled DC Comics: Secret Hero Society. Dustin Nguyen and Derek Fridolfs reunite for a series of three illustrated novels to be published by Scholastic. The series debuts in February 2016 with DC Comics: Secret Hero Society, Study Hall of Justice.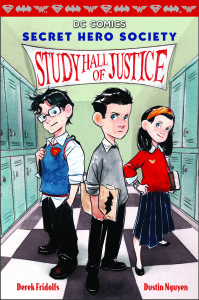 Nguyen and Fridolfs are reimagining the DC trinity as middle-school children enrolled in a prep school called Ducard Academy. "Farm boy" Clark Kent, "regal" Diana Prince and outsider Bruce Wayne strike up a friendship — and a detective squad — to look into why they and their fellow students were recruited for the mysterious school.
"I don't know what it's like to shoot lasers from my eyes, fly an Invisible Jet, or dress like a bat. But I remember my years in school fondly and tried to tap into that," Fridolfs said. "And when in doubt, it doesn't hurt to write in ninjas or have class clowns throwing pies."
Nguyen, who'll be illustrating as well as co-writing the series, describes this kind of series as something he's always wanted to do.
"Creating stories for children has always been what I love to do," said Nguyen, "And to be able to do so with iconic characters I myself grew up with, it's as exciting as being in the books myself!"
Additional heroes such as Arthur Curry (Aquaman) and Victor Stone (Cyborg) will be added in the second volume, due out in 2017.