Who's the HERO in your life?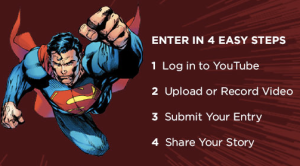 Superman is the ultimate Super Hero, inspiring strength, responsibility, and hope throughout the world. Who in your life is a HERO – embodying the Man of Steel's selfless ideals?
Tell us. Record and submit a video of your story.
Be sure your video sticks to our submission guidelines and, once you're done, make sure you tell your friends about the Superman Real Heroes Project.