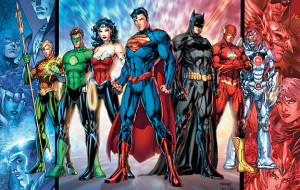 Warner Bros. Home Entertainment has released this great behind the scenes sneak peek at their animated movie adaptation of Justice League: War. The movie was officially announced at Comic-Con over the weekend. It is based on Geoff Johns and Jim Lee's ongoing origin story arc in the New 52 JL series. The video includes interviews with the cast and crew talking about the film, and also includes storyboards.
The animated feature stars Jason O'Mara as Batman, Alan Tudyk as Superman, Michelle Monaghan as Wonder Woman, Justin Kirk as Green Lantern, Christopher Gorham as The Flash, and Shemar Mooreas Cyborg. It's set to be released in 2014.
This video will be included in the Justice League: The Flashpoint Paradox home video release, but you can watch it below now.