[UPDATE] It took a bit longer than expected, but Deadline have stuck their oar in on the Ben Affleck/ Justice League story. Just in case you somehow missed the news earlier, Variety revealed that Warner Bros. want The Town/Gone Baby Gone director to helm their big screen DC super hero. movie, but NOT that Affleck has agreed to do it. Well, now Deadline report that the answer is already no.
Ben Affleck, it's time to press your cape and get your tights out of the dryer!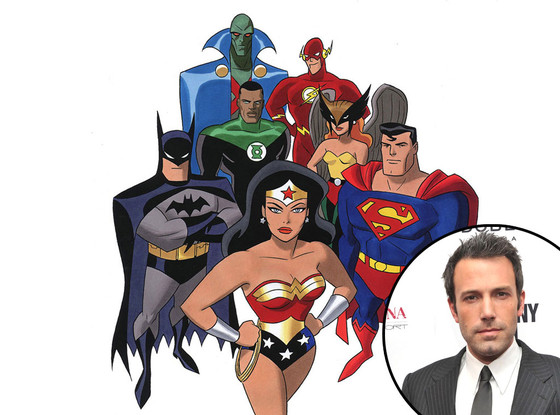 Because according to a report by Variety, Warner Bros. is eyeing the actor-director to tackle the upcoming Justice League film. The superhero movie—which would assemble comic book favorites like Batman and Superman, along with Green Lantern, Flash and Wonder Woman—has long been in the works but was seemingly put on the fast track following the massive success of Marvel's Avengers. Christopher Nolan, the man behind DC's most successful super-trilogy, the Dark Knight saga, already said that he won't be returning be taking on the League, leaving an opening that Affleck is now the front-runner to fill.
Variety claims that Affleck has "ascended high on the studio's list of filmmakers who can be trusted with prime properties" and that he is "expected to discuss the project with studio brass in the coming days." Allegedly, Affleck is also the only one who has been sent Justice League's script, penned by Gangster Squad's Will Beall.
Affleck has helmed darker fare like Gone Baby Gone andThe Town, as well as the upcoming political thriller Argo, all of which might lend themselves towards the grittier, realistic tone that DC's big screen adaptations like Batman Begins and Man of Steel have established.
This wouldn't be Affleck's first run in with cinematic superheroes, having played Matt Murdock and his crime-fighting alter ego in the 2003 film Daredevil. Though, he didn't exactly earn rave reviews for the movie—so a switch from Marvel to DC might be just the change he needs to hit gold.
Ben's onscreen buddy in Daredevil, Jon Favreau, actually went on to reboot Robert Downey Jr.'s Iron Man, which fed in to Joss Whedon's box office juggernaut The Avengers(the sequel for which Joss is returning to direct).
Find out why there will never, ever be another good Superman movie!
Within the realm of the DC universe, Affleck has also donned the infamous Superman suit, though in nothing as glitzy as a mega-million dollar superhero franchise is sure to be. Ben played actor George Reeves—star of the 1950s small-screen series, Adventures of Superman—in Hollywoodland.
Ben has made a habit of appearing in his own films of late (with starring roles in The Townand Argo), so it isn't too far a stretch to believe he might be suiting up himself. And heck, why not make it a family affair and invite wife Jennifer Garner along for the ride? She's itching to get back in on the action game, after all.
Justice League is expected to be released in summer 2015, which, if timing works out, could pit it against Avengers 2 in the most epic battle of the box office ever. And when the superhero sagas take each other on, we fanboys are all the winners, right?