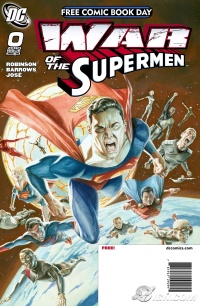 For months and months, DC fans have heard that the "Superman: New Krypton" concept was building to something big in 2010. Today DC Comics has revealed that "something big" to be an event called "War of the Superman."
The publisher is still keeping most details under wraps, though it has announced that "War of the Supermen #0" will hit on May 1, 2010 as its' DC Universe Free Comic Book Day title. James Robinson and Eddy Barrows will be handling that issue.
DC's Source blog offered this quote from Superman Group Editor Matt Idelson:
"War of the Supermen is the culmination of literally years of stories in the Super-books, all building to a destructive conflict which can have no victors. This Free Comic Book Day #0 issue is going to show the readers that no cows are sacred, and that they don't want to miss this event."
In terms of structure, a Techland interview with Idelson seems to point to a core mini-series surrounded by the usual Superman-related tie-ins. There is no indication this will grow to the size of Blackest Night.
At this point, we don't know much more. In his brief interview, Idelson did hint that Batman might take a stand against the Man of Steel.