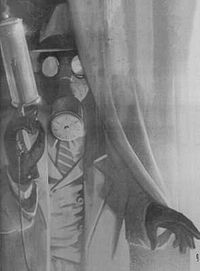 According to IMDB, Ken Lawson will be playing Wesley Dodds, the Sandman, in the upcoming Smallville television movie "Absolute Justice" that introduces us to the Golden Age Superhero Team, Justice Society.
He joins other Society members – Hawkman, Dr. Fate and Stargirl. The movie will air January.
Wikipedia offers the following 'Sandman' description:
Sandman (Wesley Dodds), is a fictional superhero appearing in comic books published by DC Comics. The first of several DC characters to bear the name, he was created by writer Gardner Fox and artist Bert Christman. Attired in a green business suit, fedora, and gas mask, the Sandman used a gun emitting a sleeping gas to sedate criminals.